Supporting employees means being there for all of life's moments — big and small. Though showing appreciation in the little ways is important, it is also important to be there for employees when they truly need support and help to guide them through life's largest obstacles. 
At Answer Midwest, we do not just want our team to succeed at their jobs, but also in their lives outside of work. Over 70% of Americans report that financial stability is a major concern in their lives, with stress from financial concerns posing a risk not just to job performance but also to personal well-being. We are always looking to help our team in new ways, including this month's featured resource: the SmartDollar Program.
The SmartDollar Program
Knowing how to manage money is not an innate skill for most people, and good money management examples and learning opportunities can be hard to come by. Jen Schulz, President of Answer Midwest, knows from experience how challenging financial wellness can be. Nearly 20 years ago, she and her husband, James, took Ramsey Solutions' "Financial Peace University" course, originally intending to apply its lessons to just their personal finances. Gradually, Jen saw how she could apply those lessons to business as well and how her team could also benefit from these tools. 
SmartDollar is a set of financial management tools specifically designed for businesses to offer to employees. Created by the same company behind "Financial Peace University", it provides financial coaching to employees to help them achieve their goals. 
The Employee Experience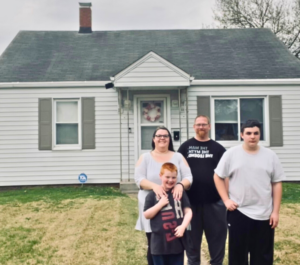 Since we introduced the SmartDollar program to Answer Midwest, many of our team have taken advantage of the resources available. One such person is Holly P.,  who participated in the SmartDollar program in pursuit of her ultimate goal of owning a home. 
Holly has been with Answer Midwest for nearly seven years and found herself struggling to create a household budget after she and her husband decided they wanted to become homeowners. Holly was introduced to the SmartDollar program through Answer Midwest and began taking advantage of the learning resources available. 
Using strategies discussed in the recorded videos, podcasts, and other services, Holly's family started taking steps in the right direction. By saving money, reducing debt, and raising her credit score, Holly and her husband were eventually approved for the purchase of their first home. In the end, Holly says, "Had it not been for the tools and resources provided by SmartDollar, we would not have been able to make the changes needed to complete our biggest goal!"
Discovering New Resources
The Answer Midwest team wants to make sure our employees thrive in every part of their lives, and we are happy to provide resources to help them achieve personal financial goals like owning a home and living debt free.
In January, we were thrilled to add one-on-one financial coaching to our program, giving participants free access to a money mentor who can answer financial questions. This personalized guidance allows employees to make well-informed decisions and navigate through the financial tools available to them with ease. 
We are continuing to expand our existing programs and look for new ways to provide support to our team. With SmartDollar, financial coaching, and our other employee programs, we hope to continue to strengthen the amazingly positive and optimistic culture here at Answer Midwest. 
Want to meet your financial goals?
Come join the Answer Midwest team! With competitive pay, growth opportunities, and financial wellness resources, you will be put on the path to success. Apply today! 
https://answermidwest.com/wp-content/uploads/2023/05/AMW-May-Blog-header.png
630
1120
answerdevadmin
https://answermidwest.com/wp-content/uploads/2019/11/ANSW-Identity-1.png
answerdevadmin
2023-05-18 11:58:47
2023-05-23 12:01:54
Helping Team Members Achieve Financial Freedom